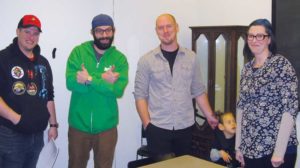 Our monthly meeting will again convene at the Thomas Dunn Learning Center on Monday, March 13th at 7:00 p.m. If you want to get involved in the legalization of cannabis in Missouri, this is the place to connect with your fellow cannabis activists. Learn the latest inside news and make history with us.
Buy a ticket to win a Trip for 4 to Denver's 420 Celebration with Colorado Cannabis Tours 420 Tour. One ticket is a $22.00 donation to Project 22. Buy 5 tickets for $100.
Meet our new Board of Directors. Sign up with our online membership form at $10.00 for a one-year membership. This special won't last long. Use our online form, then bring your check, money order or cash to the meeting on 3/13/17. Our meetings are informal, friendly and lively.
Plenty of secure, off-street parking is available. Entry into Thomas Dunn Learning Center is from Minnesota Ave., through the gates to the back parking lot, then enter through the double glass doors to the lobby.
Date: Monday, March 13, 2017,
Time: 7:00 p.m. to 9:00 p.m.
Place: Thomas Dunn Learning Center,
3113 Gasconade St, St. Louis, MO 63118
Admission: FREE. Open to the public. Everyone is invited.