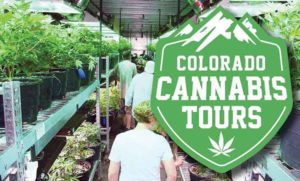 Support NORML's Project 22 with your $22.00 donation and you'll be entered in a drawing to win a FREE trip for 4 to Colorado on 4/20 to experience Denver's longest running marijuana tour!
Colorado Cannabis Tours has donated 4 exclusive tickets to an amazing 420 tour to help support Project-22.org!
Winner receives all 4 tickets and does not need to be present for the drawing to win. Make your donations here.
The Original Colorado Cannabis Tour supports NORML's Project 22.
Come see what makes Colorado Cannabis Tours Denver's best and longest running marijuana tour! With exclusive access to Medicine Man, Denver's state of the art marijuana growing facility, the newest, most luxurious party buses, limos, and the only tour with a live glass blowing demonstration, your experience can't be duplicated. Beware of impostors, go with the original, go with the best!
NORML's Project 22 and Colorado Cannabis Tours is going to sweeten the deal by throwing in FREE airfare and FREE lodging.
Tickets are limited to 500 and will go fast! Make a donation to NORML's Project 22 today.
Each $22.00 donation receives a ticket or you can donate $100.00 and get 5!
Winners announced the day after the 500th donation. There will be a recorded live drawing of the winner.
You fly into Denver, Colorado from St. Louis or Kansas City on 4/19/2017 and arrive back from Denver into St. Louis or Kansas City on 4/21/2017. You'll have much sought-after accommodations for Denver's popular 420 festivities!

You'll see first hand what a regulated cannabis industry looks like with three of your closest friends. Help Missouri veterans learn about the benefits of cannabis therapy for combat-related mental health issues at the NORML Project 22 Summit held in conjunction with the 1st Annual Institute of Cannabis Research Conference in Pueblo, Colorado.