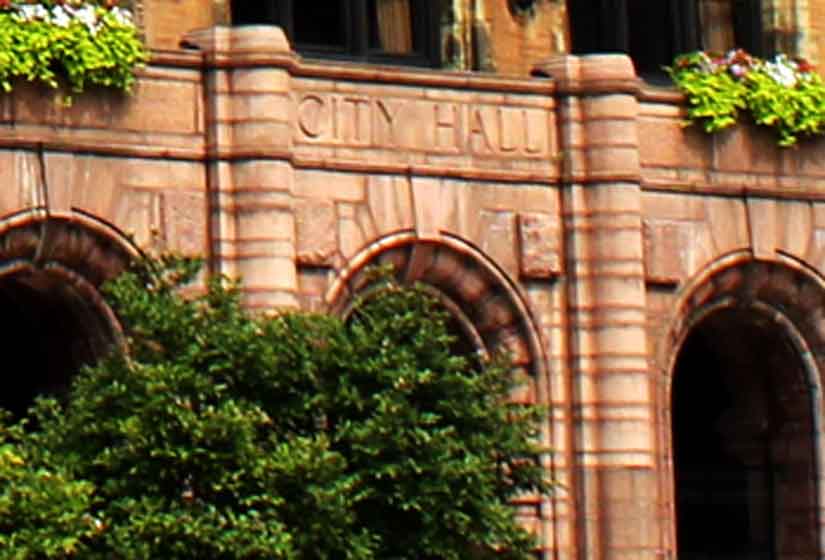 Late on Thursday, January 31, 2018 the Legislation Committee, chaired by Alderman Joe Vaccaro, granted a second reading of Board Bill 180 (BB180).
BB180, introduced by Alder Megan Ellyia Green, seeks to legalize cannabis possession and cultivation in the City of St. Louis.
Cannabis activists in the city may now provide public comment for the next Legislation Committee meeting scheduled for BB180. The evening meeting will happen on February 13, 2018 in City Hall room 208 at 6:30 pm. Public testimony will be allowed. Prohibitionists could be out in force to block this legislation and some members of the committee are in opposition to this bill.
The first committee meeting did not allow public comment. The bill's sponsor read the bill for the Legislation Committee to explain the intent of the legislation and to answer any initial questions. A few aldermen raised objections to language in the legislation. In response to concerns, comments and suggestions, Alder Green has modified BB180.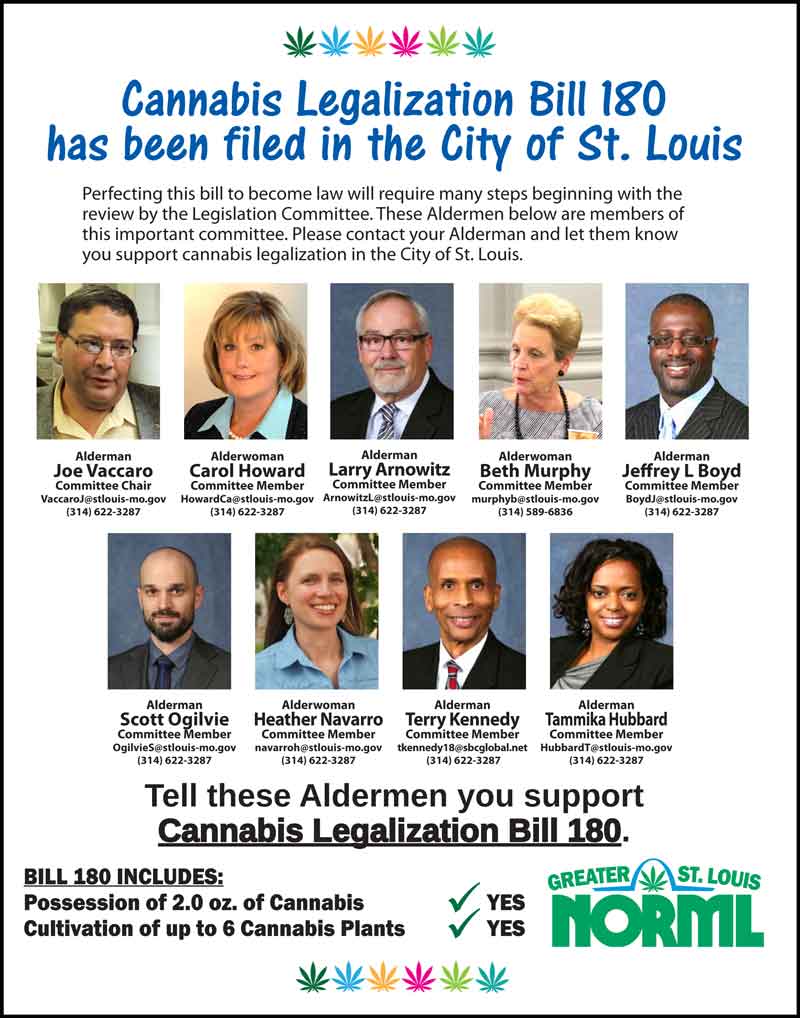 Sections covering employment, nuisance property enforcement, penalties for enforcement and definition of public vs. private use were either deleted or rewritten. Some of the language is now harmonized with New Approach Missouri's Medical Marijuana petition language, the Smoke Free Act of 2008 and the Bill adopts language from ordinances enacted by other cities who have legalized possession of cannabis.
Megan Green summarized the bill's changes in a memorandum to the GSTL NORML Board of Directors:
Decreasing the number of plants grown for personal use from 10 to 6 flowering plants in alignment with the New Approach Missouri petition.
Expungement of a possession record after one year for someone under the age of 21 who is cited for use, while dropping the fine for possession under 21 to $25 to be in alignment with BB 193
Clarifying language around public use vs. use on private property
Adding that consumers must follow other provisions of the Smoke Free Act of 2008
Adding that plants must not only be indoors but locked (this is in accordance with multiple ordinances from other cities)
Eliminates employment section
Eliminates enforcement section
Clarifies that nothing in this ordinance prohibits the enforcement of nuisance ordinances
The intent of the BB180 remains intact; to stop enforcement of petty cannabis possession and cultivation. Support from cannabis activists and GSTL NORML members at this upcoming meeting is crucial to advance this bill in the City of  St. Louis.
Let's show the Aldermen there is wide public support to end the war on drugs which has always been a war on marijuana users. Plan now to attend this committee meeting on February 13th. Let your alderman know of your support for BB180. Legalized cannabis can be a reality in the City of St. Louis.
Event: Public Legislation Committee meeting on BB180
Date: Tuesday, February 13, 2018
Time: 6:30 pm, an evening meeting
Location: St. Louis City Hall, Room 208
Attendance: Open to the public
Attend our GSTL NORML February 12th meeting to learn more on how you can help make legalized cannabis a reality in St. Louis.