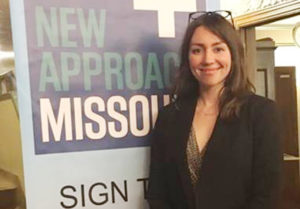 New Approach Missouri (NAM) is holding its Saint Louis, MO campaign kick off at the Regional Arts Commission, 6128 Delmar Boulevard, on Thursday March 9, 2017, and has an exciting speaker!
Dr. Adie Wilson-Poe, PhD, is a global leader in opioid and cannabis research, and she will be speaking on the research showing the benefits of cannabis as a treatment for chronic pain. Campaign leaders including spokesman Jack Cardetti and John Payne will be on hand to discuss NAM's strategy for qualifying for the ballot in 2018 and bringing medical cannabis to Missouri patients.
The event will feature complimentary food and drink from supportive Saint Louis area restaurants, including Stellar Hog, Sandrina's, Ernesto's, HandleBar, and Urban Chestnut.
Attendees will also be some of the first people in the state to see pictorial displays from the Missouri Patient Project, which profiles patients who desperately need safe, legal access to medical cannabis.
Tickets are available for this fund-raisning event. Join NAM at the Regional Arts Commission this Thursday to celebrate the beginning of the campaign to bring medical cannabis to Missouri in 2018!
Purchase your ticket today at the link below to avoid missing out. We hope to see you there.