For immediate release October 26, 2017
Greater St. Louis NORML Endorses St. Louis Marijuana Law Enforcement Reform Measure
St. Louis, MO – 10/25/2017 – On the heels of 15th Ward Alderwoman Megan Ellyia Green's announcement of her measure to "prevent the city government from interfering with the safe and responsible use of marijuana in the City of St. Louis" the Greater St. Louis Chapter of NORML (National Organization for the Reform of Marijuana Laws) offered their endorsement of the proposed legislation, which will have its first reading before the Board of Alderman on Friday, October 27th.
GSTLNORML joins Alderwoman Green's bill co-sponsors, Alderman Larry Arnowitz, Alderman Brandon Bosley, Alderman Shane Cohn, Alderman Dan Guenther, Alderwoman Christine Ingrassia, and Alderman Frank Williamson to redirect City of St. Louis resources away from costly enforcement of marijuana laws.
The legislation will direct the limited time and resources of the City to crimes with victims, by prohibiting the City Police from enforcing marijuana laws against adults. The proposal still makes it illegal to consume marijuana if you are under the age of 21, consume it in public, or provide it to minors. It allows for the home cultivation of up to 10 plants and sets a possession limit of 56 grams, and leaves the enforcement of state and federal marijuana laws to those agencies. "The proposal does not change federal or state law — instead, it sets the parameters for when the City's scarce law enforcement resources will be used," Green said in a press release earlier today.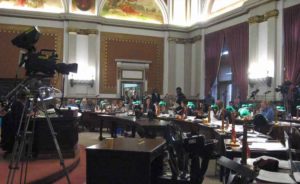 Green met with Greater St. Louis NORML Board of Directors during the crafting of the bill and spoke to Chapter members in September about the measure. Executive Director, Karin Chester believes that the people are ready for this type of legislation. "We absolutely support Green in this effort to reform antiquated and ineffective marijuana laws.

Medically, Cannabis is proving to be a much safer and more effective treatment for many conditions that are currently being treated with highly addictive and dangerous pharmaceuticals, such as opioids. From an adult use perspective, cannabis is much safer than alcohol. You cannot overdose on it and it is not physically addictive, unlike alcohol. Even the withdrawal from heavy alcohol use can be deadly." She goes on to say that, "We are happy to see this bill move forward for its first reading before the Board of Alderman on Friday. We encourage all citizens of St. Louis to contact their alderperson to support this important legislation," said Executive Director Chester, "because ending the the devastating war on drugs locally can aid in repealing state and national laws prohibiting marijuana."
Greater St. Louis NORML was founded in 1994 and is a chapter of the National Organization for the Reform of Marijuana Laws. They are currently working with New Approach Missouri on a ballot initiative to legalize Medical Cannabis statewide.