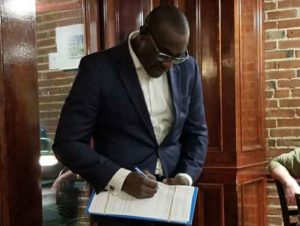 St. Louis City Board of Aldermen President Lewis Reed spoke at the November 13, 2017 monthly chapter meeting of Greater St. Louis NORML (GSTL NORML).
President Reed opposes the cannabis legalization Board Bill 180 introduced by Alder Megan-Ellyia Green on October 26, 2017. Board Bill 180 (BB180) would divert law enforcement resources from arresting individuals for private possession of up to 2.0 ounces of cannabis and privately cultivating up to ten cannabis plants.
"There are loopholes in Board bill 180 that would allow criminal enterprise to exploit this law," said Reed, "and I'm opposed to this bill." Reed explained that if criminal drug gang members were allowed to grow up to ten cannabis plants each they could increase their illegal incomes exponentially without fear of arrest.
GSTL NORML members in attendance were quick to point out that the drug gangs' "customers" could also cultivate cannabis and at much lower cost. "Who would buy cannabis from a drug dealer at more than $350 per ounce when they could cultivate their own for about the price of growing a tomato plant?"
"Drug gang profits would quickly evaporate under this bill," was the sentiment expressed by GSTL NORML members. President Reed was undeterred in his assessment that drug gangs would suddenly take up cannabis farming in the city and "sell to county residents" who would flock across city borders to purchase illegal cannabis.
Reed went on to explain that he supports the medical use of cannabis and signed the New Approach Missouri petition at the meeting. A state-wide initiative to legalize, regulate and tax cannabis is Reed's preferred method to approach cannabis legalization. However, President Reed could also see a downward penalty revision to $25 for the existing cannabis decriminalization Ordinance 69429, currently set between $100 to $500.
While the debate on BB180 will continue as the bill is reviewed in the committee process, St. Louis law enforcement continues to increase its pursuit of petty cannabis possession enforcement.
At last count for 2017, the Riverfront Times reported 207 citations were issued for cannabis infractions, a number equivalent to all citations issued in calendar year 2016. Since the cannabis decriminalization ordinance was passed by the Board of Aldermen in 2013, a total of 842 citations have been issued by the St. Louis police.