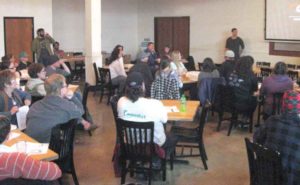 New Approach Missouri's (NAM) ballot petition to legalize medical cannabis in Missouri is closing in on 40,000 signatures. That figure was reported by campaign manager John Payne in a memorandum to volunteers and donors on June 23, 2017.
A citizen-initiated constitutional amendment requires 160,199 valid signatures to be placed on the ballot for Missouri's 2018 general election. The campaign's goal is to gather more than 100,000 additional signatures to win challenges by election officials.
Payne plans "to dramatically ramp up signature production" later this summer when the campaign hires a paid signature gathering vendor. Volunteers statewide have been the single source to date for gathering signatures at local public and private events, festivals and sports events.
"Our biggest challenge and limitation is raising the money necessary to make the ballot, and we can't do it without your support," offered Payne in a statement.
A second quarter finance report is due in days says Payne and "we currently have an offer of $200,000 in matching funds once we reach $250,000."
Campaign donors have added $185,000 to NAM's coffers. However, an extra $65,000 will "unlock the matching funds," offers Payne.
Cannabis activists, donors and the media closely monitor finance reports to assess the strength of legalization campaigns. "It's always important for us to have a strong showing at the close of the quarter," continued Payne, and "that is especially important this quarter."
During the last week of June, New Approach Missouri hopes to secure $10,000 or more from grassroots contributions. The campaign to legalize medical cannabis is on track to turn in the required number of valid signatures by May 6, 2018, if Missouri cannabis activists and backers support the campaign with donations.
The New Approach Missouri website accepts donations of $2, $20, $200 or more online here.