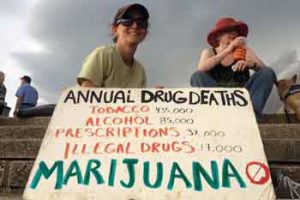 Greater St. Louis NORML will join the rest of the world on the first Saturday in May for another historic Global Cannabis March event. Mark your calendar's for May 6, 2017 and join us for a short march to the Gateway Arch.
Our informational march is to the Gateway Arch, a tremendous symbol of progress in Missouri and the nation, and will show that cannabis activists in Missouri are united in the fight for legalization of cannabis.
The Global Cannabis March started in 1999 and has become an annual event in cities all over the world. Greater St. Louis NORML participates annually.
The Global Marijuana March also goes by the name of the Million Marijuana March. It began in 1999. Hundreds of thousands of people have participated in over 829 different cities in 72 countries worldwide since 1999.
Our march is a celebration embracing cannabis activism. Participants unite to discuss, promote, entertain and educate both consumers and non-consumers alike.
Please join your fellow Missouri cannabis activists and Greater St. Louis NORML to send a strong message to Missouri policy makers, legislators, law enforcement, the judiciary, Missouri prohibitionists and voters; cannabis prohibition laws must be repealed.
As other states in our country continue to make progress on legalization, it is crucial that here in Missouri, we make our voices heard! The best way to do that is to unite our voices and have a strong showing for this event!
When and Where?
| | |
| --- | --- |
| Staging Area: | Old Courthouse Park (between the Old Courthouse and the Arch) |
| Date: | Saturday, May 6, 2017 |
| Time: | Meet at 3:30 pm; March starts at 4:20 pm. |
| March Start: | 4:20 pm we march. |
| Rally: | Meet on the steps of the Arch at the conclusion of the march for our rally and speakers. |
Greater St. Louis NORML has secured the proper permits from the City of St. Louis and Park officials. This is a legal, sanctioned event and it is your right to lawfully attend.
Join us at the staging area in the Old Courthouse Park in front of the Old Courthouse (Between the Courthouse and Arch) in Downtown, St. Louis Missouri at 3:30 P.M. We will give clear instructions on how to participate, organize, make signs, and review the route. Bring whistles, noise makers, drums and the desire to make a statement!
We will have some signs, but you're welcome and encouraged to be creative and bring your own!
At 4:20, we will start our march to the Arch. Once we arrive to the Arch, we will proceed to the 1st Amendment Area for the rally and share testimonials.
**Sorry, you can't light up during the March or at the Gateway Arch. Missouri is still a prohibitionist state. Please leave your cannabis at home and be sure to respect any lawful commandments from law enforcement and park officials during the event.