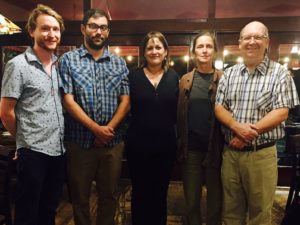 Greater St. Louis NORML October Chapter Meeting
Monday, October 9, 2017, 7:00 pm to 9:00 pm

We've scheduled a special speaker for the October meeting. Have you ever wanted to find out about the inside workings of a medical cannabis dispensary? What does it take to get a job at a legal dispensary? What is it like to work at a dispensary? What experience and requirements do you need to be successful?
Our scheduled speaker can answer all of these questions and more. If  you have any interest in the legal cannabis market, this is a meeting you don't want to miss.
Our October chapter meeting will be held at CJ Muggs in Webster Groves, MO. After an unexpected double booking at Llywelyn's Pub, where we lost our meeting space, we walked down the block, around the corner to CJ Muggs to find an even better meeting space. St. Louis Alderwoman Megan Green gave an wonderful presentation about her cannabis legalization bill for the City of St. Louis.
We expect another great speaker in October, so come on down to CJ Muggs and join your fellow cannabis activists to find out more about cannabis legalization. Come early for Happy Hour drink and appetizer specials. We have a quiet meeting space on your left as you enter CJ Muggs.
Event: October 9, 2017 Greater St. Louis NORML Chapter Meeting
Date & Time: Monday, October 9, 2017 at 7:00 PM to 9:00 PM
Location: NEW LOCATION!
CJ Muggs Webster (Webster Groves, MO)
101 W Lockwood Ave, Webster Groves, MO 63119
Happy Hour ends as 7:00 pm, come early!
Sponsor: Greater St. Louis NORML
Cost: FREE. (Donations accepted.) Everyone is invited.