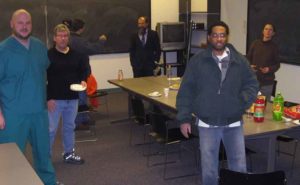 Our monthly meeting will again convene at the Thomas Dunn Learning Center on Monday, February 13th at 7:00 p.m. If you want to get involved in the legalization of cannabis in Missouri, this is the place to connect with your fellow cannabis activists. Learn the latest inside news and make history with us. No matter what age you are or how inexperienced you are with cannabis activism, it's never to late to dive in and work to end cannabis prohibition with Greater St. Louis NORML.
We'll be discussing the New Approach Missouri kickoff events, upcoming signature gathering activities and Project 22 fundraising. Out annual elections will be held in February and that's the time to support Greater St. Louis NORML by updating your yearly membership. Sign up with our online membership form at $10.00 for a one-year membership. This special won't last long. Use our online form, then bring your check, money order or cash to the meeting on 2/13/17. Our meetings are informal, friendly and lively. Find out what's really happening in the world of Missouri cannabis legalization.
Plenty of secure, off-street parking is available. Entry into Thomas Dunn Learning Center is from Minnesota Ave., through the gates to the back parking lot, then enter through the double glass doors to the lobby.
Date: Monday, January 13, 2017,
Time: 7:00 p.m. to 9:00 p.m.
Place: Thomas Dunn Learning Center,
3113 Gasconade St, St. Louis, MO 63118
Admission: FREE. Open to the public. Everyone is invited.