Happy New Year from Greater St. Louis NORML! You are receiving our first email newsletter of 2018. We hope to make this a regular communication so you can keep informed about cannabis legalization efforts in the Greater St. Louis metro and across Missouri.
We welcome the many new members who've joined GSTL NORML in the past few months. Your membership dues help fund our cannabis legalization operations and to change public opinion about cannabis legalization in the St. Louis metro area. We use our funds to purchase booth and table space at area events, buy banners and signs, fund events and conduct meetings, keep our website operational, attend regional conferences, and support statewide and national efforts to remove penalties for cannabis use.
Paid Greater St. Louis NORML chapter members are invited to our secret members only Facebook page. Get all the breaking chapter news, action alerts, notifications, cannabis news and discuss it all with your fellow cannabis activists. Send a friend request or email to any GSTL NORML director and we'll make sure you're added. Our public Facebook page is here.
January Chapter Meeting
Join us at CJ Muggs, January 8th at 7:00 pm in Webster Groves, MO for our first chapter meeting of 2018. We're kicking off the new year with a couple of great speakers and a live-streamed presentation. Jonathon Callicoat of HOPS 21 will be speaking and George Nolen will give us a Skype tour of a cannabis grow facility in Oregon! Executive Director Karin Chester has set up this exciting January meeting.
We'll also vote on our newly revised chapter bylaws and provide the latest updates about the New Approach Missouri campaign, BB180, Missouri NORML Lobby Day and more. It's free to attend. Everyone is invited.
GSTL NORML Chapter Meeting

Date & Time: Monday, January 8, 2018, 7:00 pm to 9:00 pm.
Location: CJ Muggs Webster (Webster Groves, MO)
Happy Hour ends at 7:00 pm, come early!
Address: 101 W Lockwood Ave, Webster Groves, MO 63119
Sponsor: Greater St. Louis NORML
Cost: FREE. (Donations accepted.)
St. Louis City's Board Bill 180
Legalization of cannabis in the City of St. Louis could become a reality sooner than you think. Alderwoman Megan Ellyia Green's (15th Ward) BB180 was met with strong opposition by Board of Alderman President Lewis Reed and Alderman Joe Vaccaro (Legislation Committee Chairman). The initial public hearing on December 7, 2017 was closed to public comment.
Board Bill 180 changes law enforcement priorities to allow possession of up to 2.0 ounces of cannabis by adults 21 and over. It will also allow private cultivation of up to six cannabis plants in its revised draft. Both Reed and Vaccaro declared this bill "dead on arrival" with no chance of seeing the light of day.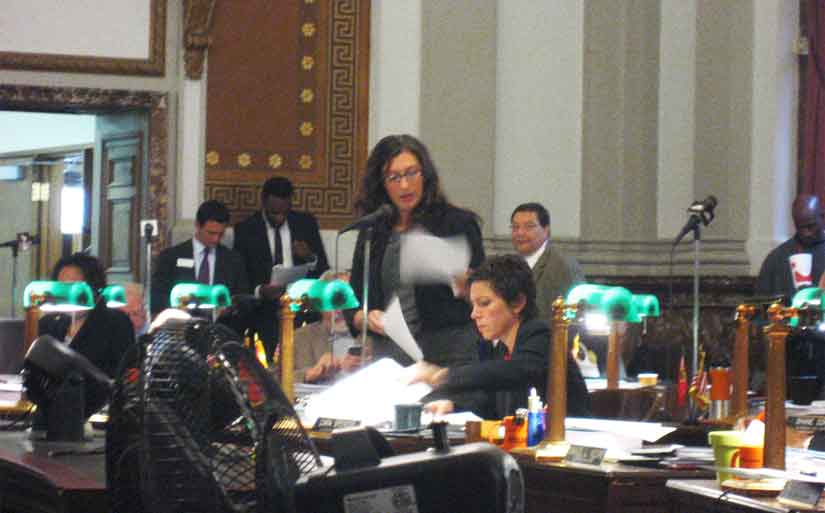 Against all odds BB180 made it through a historic first hearing of the 10-person legislation committee. Committee members asked several questions about various aspects of the bill. In response to the feedback, Alder Green's legal team will be modifying several items to make this bill stronger and more likely to pass committee scrutiny for the next committee meeting. A new revised BB180 will be ready for review in the coming days.
Greater St. Louis NORML has been working with Green to provide information and support for passage of BB180. "I'm hoping that we have public testimony one evening in the next two weeks," stated Green in a communication to the GSTL Board of Directors.
Greater St. Louis NORML was happy to have Megan Green at our October chapter meeting. Lewis Reed also addressed our chapter meeting in November and subsequently introduced competing Board Bill 193 to reduce the existing possession penalty to $25. We can make a difference with our legislators!
Cannabis activists in St. Louis City should contact their aldermen and encourage them to support BB180 to make cannabis legal to possess and cultivate in St. Louis. We'll discuss more details at our January meeting.
Medical Marijuana Campaign's Final Push
New Approach Missouri is entering a critical part of its campaign to put medical marijuana on the ballot for 2018.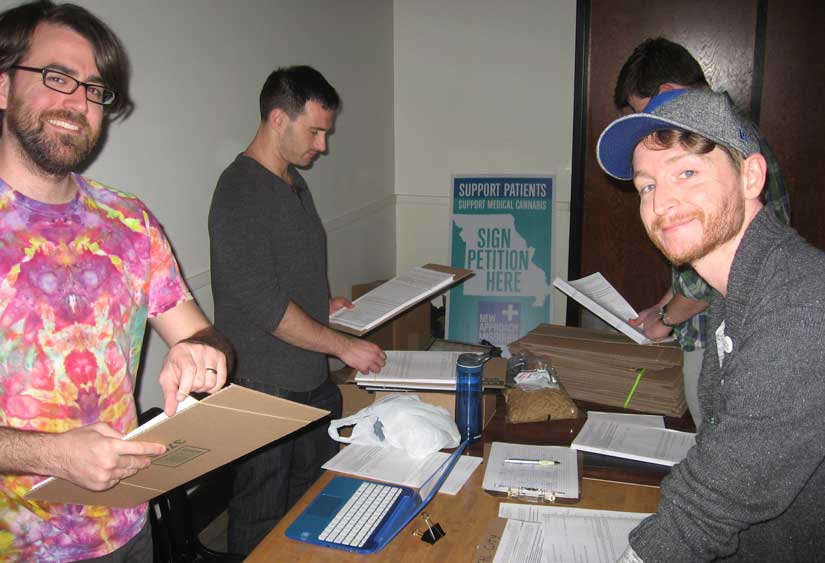 Just days before 2017 came to a close campaign manager John Payne posted to supporters, "within a few days of January 1, we will pass the 150,000 signature mark, as well as open two new petitioner offices to expand paid collection into the final priority congressional districts."
Qualifying for the November 2018 ballot takes money and support to help "propel our petition drive down the final stretch," says Payne, "but none of that happens without your support."
There are plenty of opportunities to volunteer and help gather signatures. Your donation of $5, $10, $25, $50 or more to the campaign can make a big impact. Greater St. Louis NORML will have several notaries at our January meeting to process your petition sheets. Interested in learning how to gather signatures? Get trained now. Attend our January meeting and learn how.
Missouri NORML 2018 Lobby Day
Missouri legislators can be crucial allies when cannabis legalization comes to the Show-Me state, but they need information and the straight facts about cannabis. Our 2018 Missouri Lobby Day is the one organized outreach event by NORML chapters across the state to tell our story.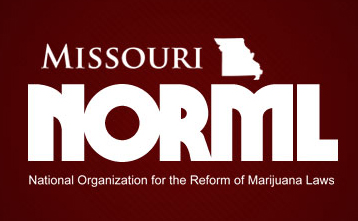 Meet up with your fellow cannabis activists from across the state on January 30, 2018 at the Missouri State Capital building. We'll convene in Hearing Room 1 in the basement of the Missouri State Capitol Building at 11:00 am. We will have refreshments provided and special guest speakers.
After walking the halls and speaking to our legislators, we will convene at a nearby location for everyone to meet after a successful day of lobbying for a debrief. Many activists will be carpooling to the event. Check here for up-to-date notices. Want to organize a carpool? Let everyone know and please like and share this event!
Chapter Bylaws
The Greater St. Louis NORML board of directors has reviewed our bylaws, made changes, received input from the National NORML office and our members. Over the last few months we have finalized our draft and are ready to vote on the changes at our January meeting.
The changes include removing and improving minor inconsistencies, contradictions, director duties, and the rules on voting. This has resulted in bringing our bylaws into closer alignment with the National NORML office recommendations. You can review the proposed draft here. Current members in good standing may vote at our January meeting. Not a member? Use our handy online membership form to become a member or renew your membership.
February 2018 GSTL NORML Chapter Election
GSTL NORML chapter elections are coming up in February. Only current chapter members can vote in this annual election. If you are not a current member, join GSTL NORML at our January meeting to vote at the February election.